Nicole Kidman left viewers in tears as she gave an emotional speech after winning a Golden Globe, with her devoted husband Keith Urban supporting her in the audience.
The star, 50, looked over the moon as it was announced she had won 'Best Actress in a Limited Series or Television Movie' for her role as a victim of domestic violence in Big Little Lies at the annual ceremony, and her husband Keith Urban was right by her side to cheer her on as she stood to accept the gong. Standing to a round of applause, Kidman could be seen giving him a quick peck before taking to the stage.
Kidman joined a stream of stars on the red carpet wearing all-black at this year's bash, in support of the 'Time's Up' campaign against sexual harassment. And she is a strong contender for best dressed on the night.
Wearing a black skintight dress, the actress showed off her incredible figure, and added some sparkling glamour with a jewelled sheer top over the top. She wore her hair pinned back in a stylish bun, and was inseparable from her husband as they posed for joint photos together in front of the cameras.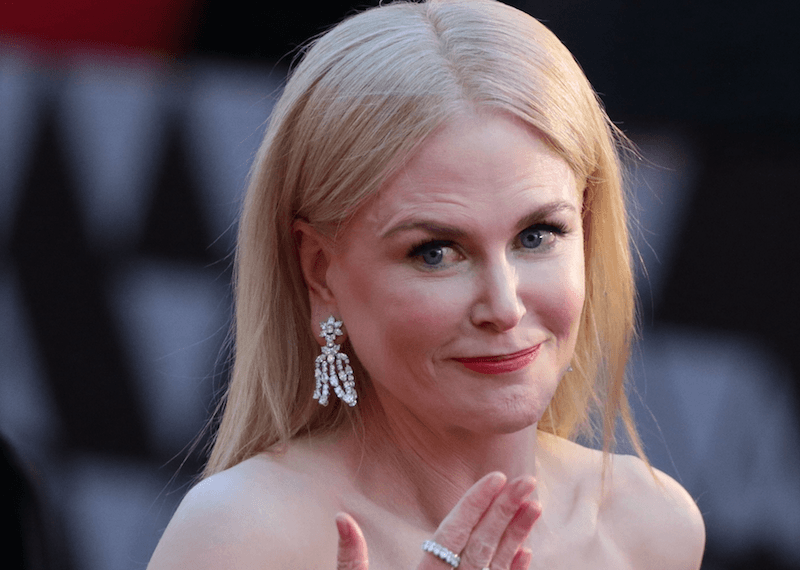 She gave her husband a special mention in her acceptance speech, and managed to leave many of her biggest fans in tears. In it, she praised her female co-stars and added of the movie: "This character that I played represents something that is the centre of our conversation right now: abuse. I do believe and I hope that we can elicit change through the stories we tell and the way we tell them."
She went on to thank her husband Urban, saying: "When my cheek is against yours everything else melts away," and she also thanked her mother, adding: "My momma was an advocate for the women's movement when I was growing up, and because of her I'm standing here. My achievements are her achievements."
One fan wrote on Twitter: "@NicoleKidman speech has me in tears! Just beautiful! #timesupnow @goldenglobes." While another added: "Nicole Kidman just said to Keith Urban 'when my cheek is against yours everything else melts away'."
Meanwhile another wrote: "I teared up with that speech. Nicole Kidman is a queen. #GoldenGlobes," and one fan wrote: "Nicole Kidman just gave a barnstorming, hugely touching speech and then handed her husband a line for a number one country song. I love her. #GoldenGlobes."
The 'Time's Up' campaign was set up by a group of more than 300 women, both in and out of the Hollywood industry, encouraging everyone to wear black in an act of solidarity. The group, which includes everyone from Meryl Streep to Jennifer Lawrence, has also set up a $16.5 million legal defence fund for less privileged women who have fallen victim to sexual harassment, the Sydney Morning Herald reports.
The initiative was announced with a full page ad in the New York Times, with an open letter signed by some of the may women putting their weight behind it. Part of it reads: "The struggle for women to break in, to rise up the ranks and to simply be heard and acknowledged in male-dominated workplaces must end; time's up on this impenetrable monopoly." It followed a series of shocking allegations of sexual harassment made against Harvey Weinstein and other big names in the entertainment industry.
Meanwhile, Kidman shared a candid photo of her getting her make-up done, just hours before accepting her award on stage. she captioned the photo: "So excited to be sharing this night with my girlfriends from #BLL #HBO #GoldenGlobes #Neutrogena #NeutrogenaMakeup."